Local Agenda 21 (LA 21)
---
Local Agenda 21 (LA 21)
1. What is Local Agenda (LA) 21
Local Agenda 21 is a program and action plan towards achieving sustainable development
Reflected from the Conference of the Earth Declaration in Rio Jeneiro in 1992
Local Agenda 21 provides opportunities and awareness to communities and stakeholders to be involved in program programs towards sustainable development
Provide guidance to communities and stakeholders to contribute ideas and collaborate with Local Authorities, in every aspect of physical, economic, social and environmental development, continuously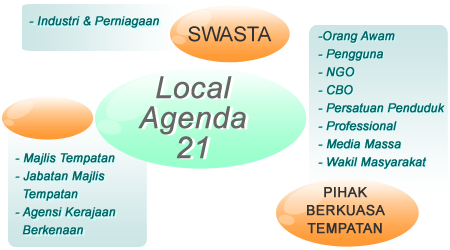 2. How to Get More Information?

Link: Please refer to LA 21 Putrajaya Official Website
3. What are the Local Agenda Features 21
Take into account holistic perspectives in addressing economic, social and environmental needs towards the achievement of sustainable development.
Active participation of communities, stakeholders and stakeholders to consent (partnership)
Thought for the common good is the need for lifestyle changes and the new way of using resources.
Long term perspective.
Global issues that all parties need to consider in an area to contribute towards the well-being of the global world.
4. Is LA 21 Benefits?
As an Individual
Your views are considered in the planning and implementation of programs to improve the quality of life in your area.
PBT (Perbadanan Putrajaya will be more sensitive, empathy and caring for your needs as individuals and communities
Your environment can be changed by taking into account the comfort and quality of life
Increase your sense of pride, love and responsibility to the environment and communities in your area (sense of belonging)
As a Society or Company
Enhance the image of your establishment as a community or corporate body that is responsible and sensitive to the needs of the local community and other stakeholders.
Carry out programs more effectively because of the cooperation of other stakeholders.
The opportunity to plan and manage physical, social, economic, landscape and environmental development in your area together with Local Authorities (Putrajaya Corporation)
Opportunity to provide inputs to more effective local policy and method of operation to residential and Putrajaya
Opportunity to serve the community
As a Government Representative
Improve understanding between society and the government.
Improve community support for programs that will benefit all
Enhanced ability to meet community needs
Enhance image as a government representative practicing good governance with the presence of public participation, transparency, sensitivity, agreement, effectiveness and efficiency, more responsible and strategic visionary
5.What are your roles?
Join community organizations in your area to engage in LA 21 Putrajaya programs
Contact LA 21 Putrajaya Secretariat to participate in LA 21 Putrajaya programs
Teach your children and friends to understand the concept of LA 21 and take care of the preservation and improvement of the environment in your area
Love Putrajaya contributes both to aspiration and energy in the success of LA 21 Putra programs
Amendment of LOCAL AGENDA 21 (LA21) information as follows:
If this information is not enough, please contact: -