Events & Activities
PUTRAJAYA CULTURE FUN RUN AND GATHERING 2023

---
30 Sep 2023
Dataran Putrajaya, Presint 3
7:00 AM - 11:00 AM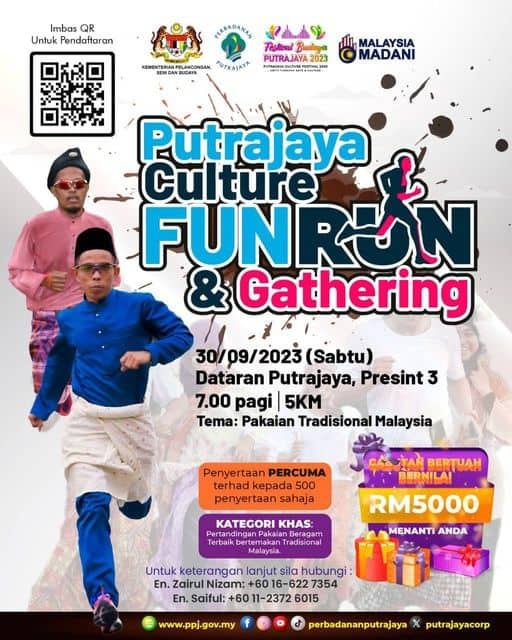 Sempena Festival Budaya Putrajaya ( Putrajaya Cultural Festival ) 2023 pada 28 September hingga 1 Oktober 2023.
Ayuh sertai Putrajaya Cultural Fun Run and Gathering 2023.
Tarikh: 30 Sept 2023 (Sabtu)
Lokasi: Dataran Putrajaya, Presint 3 (berhadapan Perbadanan Putrajaya)
Masa Berkumpul: 7.00 pagi
Masa Pelepasan: 7.30 pagi
Kategori: 5KM Fun Run
Tema: Pakaian Tradisional Malaysia.
Penyertaan PERCUMA dan terhad kepada 500 penyertaan terawal sahaja. Siapa cepat dia dapat.
Cabutan bertuah bernilai RM5,000 menanti anda.
KATEGORI KHAS: Pertandingan Pakaian Beragam Terbaik bertemakan Tradisional Malaysia.
Yuran: PERCUMA
Jadual Acara:
07.00 pagi
- Peserta berkumpul di Dataran Putrajaya
07.30 pagi
- Pelepasan peserta
8.30 pagi
- Peserta balik ke Dataran Putrajaya
09.00 pagi
- Cabutan Bertuah
- Hadiah untuk Pakaian Beragam Terbaik.
10.00 pagi
- Acara selesai
Jangan ketinggalan untuk bersama-sama menyertai Putrajaya Cultural Run and Gathering 2023!!!!
DAFTAR SEKARANG!!!
#culturalrun
#putrajaya
#MalaysiaMadani