Marina Putrajaya
---
Marina Putrajaya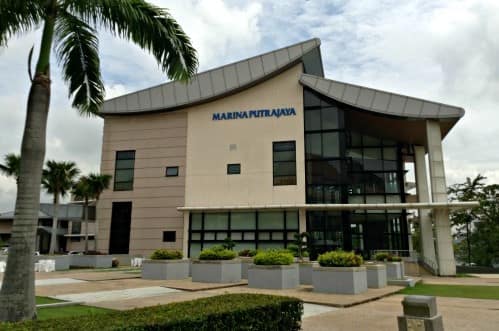 Marina Putrajaya is one of the attractions for leisure and recreation in Putrajaya which offers a wide range of services to public especially communities in Putrajaya and its surrounding. Located on the lakeside of Precinct 5 Putrajaya, this attraction mainly aim to create a healthy lifestyle for everyone that come to use its facilities. With a total space area of 28,530m2 (including buildings, promenade and water features), this facility is built in a circular pattern.
From the angle of bird's eye view, this building uniquely forming the shape of a horseshoe crab. The wonderful design of the complex comes with the purpose to ensure that every part of the complex has a good view of the scenic Putrajaya Lake from all angles. Marina Putrajaya is the only facilities in Putrajaya that acts as the 'one-stop recreation center' that is open for public. Visitors can find facilities such as swimming pool, gymnasium, aerobic studio, steam bath room and sauna room all under one roof.
In order to provide the greatest satisfaction for its visitor, Marina Putrajaya also has an exclusive café serving a wide range selection of food and beverages. Visitors will be able to indulge in a wonderful gastronomical experience while enjoying breathtaking view from the café. For a delightful leisure experience, visitors can always enjoy playing snooker or pool which is located on the first floor of the east wing building. Not only that, the snooker lounge is also equipped with dart for its guest to hit the bull's eye at any time. For visitors who are coming with their family, the VIP-sized karaoke room is the perfect place have their family singing session.
The room can accommodate up to 15 person at any one time. When it comes to event, Marina Putrajaya has always be the prime spot to organize events in Putrajaya. Marina Putrajaya has a few halls and open space area that are open for rental all year round. This location has yet be the venue host for high profile events such as the Red Bull Air Race, Magic of the Night and Mega Wedding. Many people find Marina Putrajaya as a unique venue due to many factors; the panoramic view, high quality services and the feel of exclusivity. For the convenience of its guests, Marina Putrajaya also provides three prayer rooms (located on the east wing, west wing and near the cruise jetty), five changing rooms equipped with shower rooms and ample parking space which freely open for its visitors.